We've Moved!!
New address: 284 Garden Rd.
Willard, NC 28478

Phone: 910-604-1616
Location: The museum is now located in the home of Grey and Sue Murphy, original homesteaders. The 2 bedroom home is one of the first 10 homes built on Penderlea.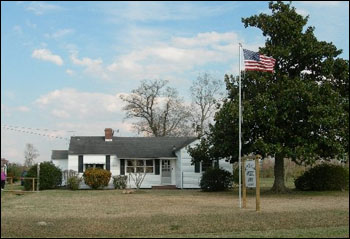 From Raleigh and points West:
Take I-40 East. Exit at #390, turning right onto US 117 toward Wallace. Travel about ½ mile, then turn left onto NC 11. Travel through Willard to a blinking light, about 2 ½ miles. At the light, turn left (following NC 11) for 3.7 miles, entering Penderlea. Turn left onto Garden Road (cemetery and church will be on the right approaching Garden Road). Continue through the first intersection at Pelham Road. The museum is the next house on the left.
From Wilmington and points East:
Take I-40 West. Exit at #398, turning left onto NC 53. Follow NC 53 into Burgaw to the stop sign at Walker Street. Continue straight through onto Bridgers Street which becomes the Penderlea Hwy. Stay on this for approximately 11 miles. At the yield sign, turn right onto Garden Road. The museum is approximately ¼ mile, the second house on the right.
From US 421:
Turn onto NC 11. Travel about 4 miles to Garden Road (Fire Station will be on the left just before Garden Road). Turn right and go through the first intersection, Pelham Road. Museum is the next house on the left.